The Best Water Damage Restoration Services in Boca Raton, FL
Water damage can strike your space when you least expect it, and the effects might be devastating. At UCM Carpet Cleaning Boca Raton, we will help you restore your building by accessing the water damage, determining the best course of action, and embracing a professional water damage restoration service. We have the best skills, tools, and machines to clean up the damage and ensure it is safe for occupation or business operations.
Quality Full-Service Water Damage Cleanup and Restoration Services near You
Disasters are inherently hard to plan for, but whenever you experience water damage, time is of the essence. It doesn't matter whether you are dealing with a pipe burst, natural disaster, frozen pipes, appliance leakages, leaking roof, storm damage, or emergency flood in your home or business; you need immediate and comprehensive restoration services.
UCM Carpet Cleaning Boca Raton has helped multiple residential and commercial clients in Boca Raton, FL, with cleanup and damage restoration after such situations. If you leave the damages unattended, everything will continue getting worse over time.
It doesn't matter the part of your house experiencing water damage; from the bedroom, kitchen, living room, bathroom, basement, to the garage, and beyond; we have all it takes to assist you. Get in touch with us, and let our flood damage restoration services fix the damage. We will offer you the best services and value for your money.
Our Water Damage Restoration Services in Boca Raton
Learn about the professional water damage cleaning services we offer for you. Here we go!
Water Removal and Extraction
Thanks to our certified technicians equipped with the necessary tools and supplies, we will extract all the standing water. In addition, our professionals will thoroughly dry out all the areas impacted with water. Our emergency water removal service ensures we have checked and extracted water and moisture from all the areas.
We understand that leaving moisture could lead to structural damage and molds that pose a health risk; that is not what you want.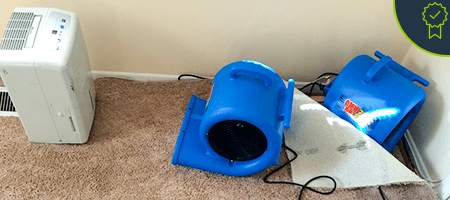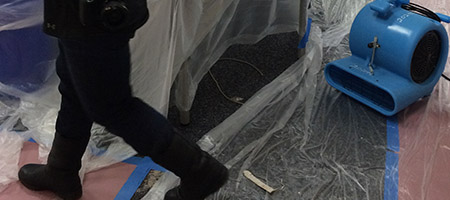 Drying and Dehumidifying
It's a vital stage when dealing with water restoration. If the drying and the dehumidifying process are not well handled, you will have floors and walls that look dry but soaking wet on the inside. Having trapped water in your home or business could lead to water damage spreading extensively. Worry no more. We have the best drying method for every task. Depending on your home or office condition, we'll customize the approach that suits you. Simply put, our professionals will identify the affected spots, facilitate water extraction, and dry the affected areas.
Demolition of Affected Areas (If Needed)
We will inspect your premises for any area that needs to be demolished. If the damaged area has severe damage, we will carefully remove the affected parts from the building.
Sanitizing and Disinfecting
After drying the affected areas, we embrace sanitization to destroy any bacteria that might have settled in your accessories, furniture, and walls. With quality and eco-friendly sanitizing and disinfecting products, we guarantee a clean and fresh space. Disinfection procedures ensure that we also get rid of the mold that might have begun to take root.
Final Cleanup
Water damage restoration is not complete without a final cleanup. Cleaning makes your business or home orderly, hospitable, and free of any health risks. It's because your space is free from colonies of germs, infections, and harmful and destructive moisture.
UCM Carpet Cleaning Boca Raton: Additional Services
In addition to water damage restoration, we provide these additional services that you might need:
Get In Touch With Us Today
Ready for quality and reliable water damage restoration services at competitive prices in Boca Raton, Florida? Get in touch with us for storm damage cleanup, 24/7 emergency water removal, and flood damage restoration. We're available via 561-926-6688 for all your inquiries and free estimates. Let's chart the way forward now!